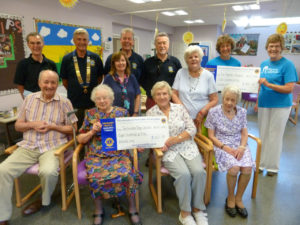 In May the Tenterden Lions Club produced a very successful concert at the Sinden Theatre in aid of The Tenterden Day Centre and The Pilgrims Hospice. They were very grateful in obtaining as their main attraction Martin Rendle (Tenor) and Hannah Kirk (Soprano) who gave outstanding performances from various operatic arias and duets and finally brought the house down with a rendition of 'Land of Hope and Glory' with the audience joining in. They were very ably supported by Highworth Chamber Choir and the Vintage Ukuleles, both of whom gave splendid performances, for which the Lions were very grateful.
As a result the Lions raised in total the sum of £1,700 which was split between the Tenterden Day Centre and the Pilgrims Hospice, both charities very close to the hearts of the people of Tenterden.
Liz Thorn of the Day Centre said "The Lions are an amazing club and have raised many thousands of pounds for the Day Centre over the years and we at the centre are very grateful for their generosity".
Vicki Dodds, Chairman of the Tenterden Pilgrims Hospice Committee said "The Lions have always supported us in our endeavours in raising funds for the Pilgrims Hospice, which has in the past and will in the future continue to help many individuals in the area. We all are most grateful for their continued support".
Lion Steve Clark – Chair of Lions Service Committee "We are very grateful for the continued support of the people of Tenterden and the surrounding areas to enable us to help charities such as these".
The photograph above shows Lions John, Mike (President), Rod, and Steve (Service Chair) with Hospice Representatives Vicki and Sheila at the back and the Senior Citizens in the front row are Adrian, Phyllis, Marjorie, Olive and Edna. Just in front of Rod is Liz, Manager of Tenterden Day Centre.
Save
Save
Save
Save
Save
Save
Save