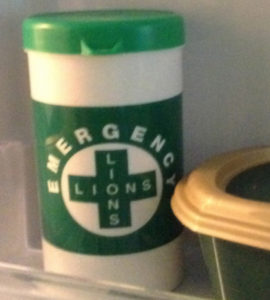 We Help the Emergency Services
Lions Message in a Bottle is a simple, but effective, way to keep essential personal and medical details where they can be found in an emergency – the fridge.
More than 5 million FREE Message in a Bottle kits have been distributed by Lions Clubs British Isles & Ireland in recent years to people with conditions such as diabetes, allergies, disabilities and life-threatening illnesses.
The bottles are supplied FREE of charge thanks to generous donations from the public and businesses.
Lions clubs supply the bottles to health centres, doctors' surgeries and chemists. They are also available direct from Lions clubs
Paramedics, police, fire-fighters and social services support this life-saving initiative and know to look in the fridge when they see the Lions Message in a Bottle stickers.
Message in a Bottle kits are available locally at:
Ivy Court Surgery, Tenterden
Cedar Court, Tenterden
West View, Tenterden
Carers Central, Ashford
Save