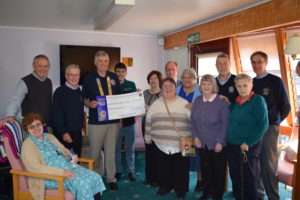 On Thursday 6th April the Tenterden Lions Club went to the Day Centre and presented them with a cheque for £3,000.
These funds were the result of the Lion's Christmas collection and other events held during 2016 and were very gratefully received.  They will go towards supporting the running of the Centre.
Steve Clark, Chair of the Lion service committee said "Tenterden Lions Club has always focused on supporting the Tenterden Day Centre. This year after a review of available funds raised during the Autumn/ Winter period, we were delighted to provide this latest donation which we know will always be put to the very best use".
Save