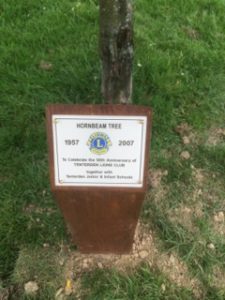 In 2007, to commemorate the 50th birthday of Tenterden Lions Club it was decided to plant a tree in the Recreation Ground and Tenterden Town Council suggested that as the Junior School was also 50 years old at its present site, we could combine the two anniversaries. It was agreed and the site for the tree was deliberately chosen to be near the school.
We originally planted a 'Service' tree to echo our 'We Serve' motto. The 'Service' tree, also known as the Chequer tree, was once the most common tree in Kent and was used extensively in brewing before the use of hops. As they are now uncommon, Ashford Borough Council sourced a tree for us and planted it as their contribution. So the whole project was a co-operation between the Tenterden Lions and Ashford Borough Council.
Unfortunately the Chequer tree did not do well and it was recently replaced by the present Hornbeam tree, which was again given to us by Ashford Borough Council, although this time it was planted by the Lions. We chose Hornbeam because it is indigenous to this area. We hope the tree continues to grow and give pleasure to everyone.
Save
Save
Save