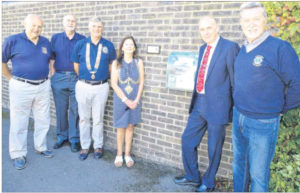 A new defibrillator has been unveiled in Tenterden. It is located on the wall by the public toilets in Station Road and was presented to Tenterden Town Council by Tenterden Lions Club recently in a ceremony attended by Tenterden Mayor: Cllr Pam Smith; Lions' President: Mike Boughton; Tenterden Town Clerk: Phil Burgess and other Lions Club members. A plaque has also been erected on the wall alongside the defibrillator recording the donation.
The machine cost £1,400 and brings the number to four now available in Tenterden, alongside two located in St Michael's.
A defibrillator is a device that gives a high energy electric shock to the heart through the chest wall to someone who is in cardiac arrest.
Lions' Service Committee Chairman, Steve Clark said: "We serve the local community so this was something that was needed and we were able to purchase."
Save
Save