Homewood School & Sixth Form Centre's Pupil Support Fund has received a New Year boost from the Tenterden Lions Club.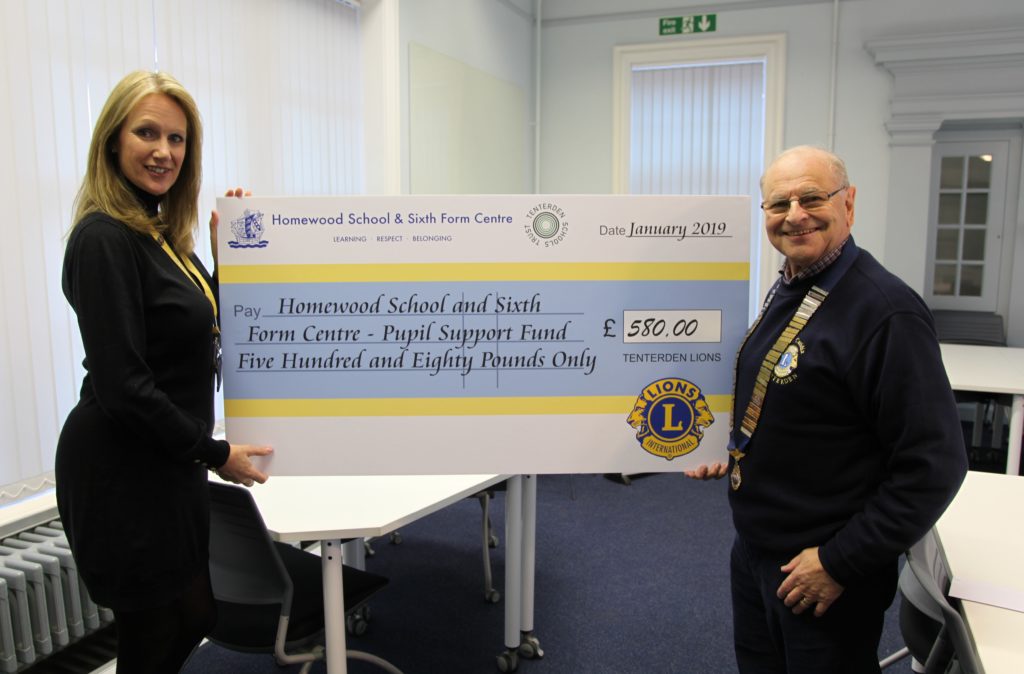 The fund helps pupils who need urgent financial assistance with items or services necessary for their education, but which their families or carers are struggling to afford, such as: computers, books, uniform and equipment, school travel passes, and grants to enable them to go on school trips.
The Tenterden Lions have agreed to donate just under £600 to the fund over the next two years.
Presenting a cheque to the school, Tenterden Lions Club President Mike Caridia said:" We are delighted to support this important fund. The Tenterden Lions Club is a charity which has been serving Tenterden and the surrounding areas for over 60 years. Helping young people, through supporting local schools, is one of our key aims."
Miss Catrina Thorp, who manages the fund at the Ashford Road school (pictured receiving the cheque), said: "We are very grateful to the Tenterden Lions for their support. With school funding under some pressure, it is wonderful to get a donation like this so that we can help more pupils needing emergency financial support. We get a steady stream of requests all year round, but January and September are often our busiest months."
Contributions to the Homewood School Pupil Support Fund are welcome at any time. Anyone wishing to make a donation should email Miss Thorp at the school on: c.thorp@homewood.kent.sch.uk