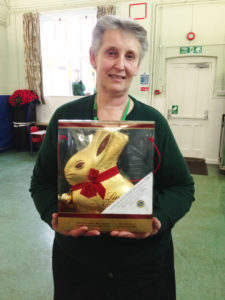 Wittersham School would like to thank Tenterden Lions for their support in purchasing the Chocolate Bunny for their raffle at Wittersham School.  Sue and Barry Cheesmur have been particularly kind with both their support and time.
A total of £85 was raised, which is a fantastic amount given the size of the school and all the more impressive thanks to your kind donation of the Chocolate Bunny.
The Bunny was won by Janet Pudan (School Cook); who is very kindly donating it to the William Harvey Hospital, Padua (Children's) Ward, where her sister-in-law is in training.  No doubt the gift will be most welcome.
Although Janet dislikes having her photograph taken, on this occasion she has kindly consented to this image being used to support and promote the work of The William Harvey Hospital's Padua Ward, Tenterden Lions and Wittersham School Association.
A very Happy Easter to you all and many thanks from the Wittersham School Association.